Downstairs, Bussola offers diners the chance to enjoy a fine dining experience, with a mouth-watering selection of traditional Italian dishes, as well as Chef Marco's take on Italian cuisine, with classics from the north to the south of Italy.
Starters
Wheat and Rice
Land & Sea
Desserts
Business Lunch
Starters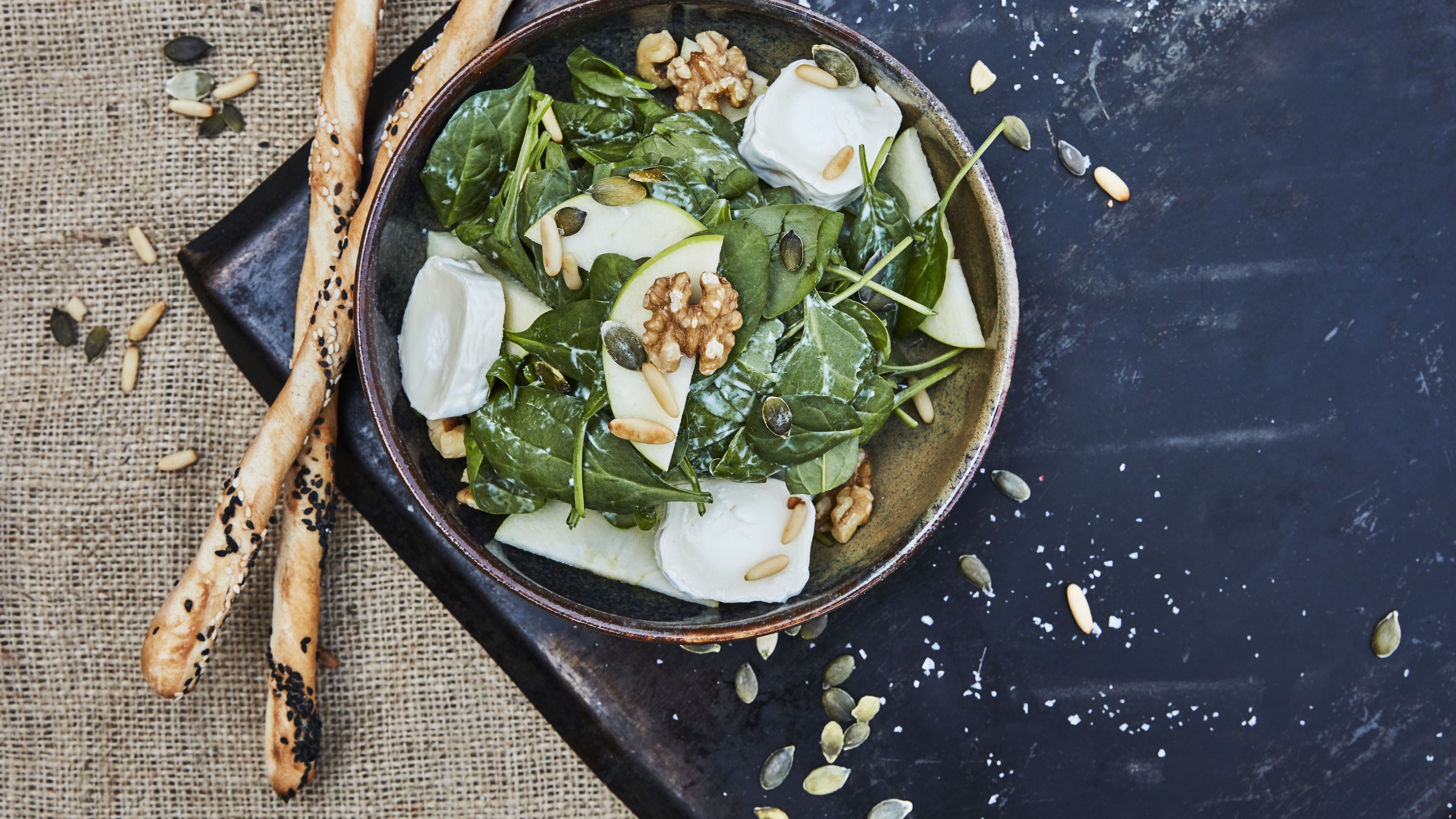 ANTIPASTI
To start with...
Burrata pugliese 300 gr, insalata di pomodori e pesto al basilico - 150
300g Burrata cheese with heirloom tomatoes, extra virgin olive oil and fresh basil (good to share)
Tagliere di salumi tradizionali con pecorino al tartufo e condimenti - 112
Traditional pork cold cuts selection with truffle pecorino cheese and condiments (good to share)
Prosciutto nero dei nebrodi con mostarda mantovana, pere affogate alla camomilla e gnocchi fritti - 105
Nebrodi cured black pig ham with mantuan mustard, chamomile pears and deep fried gnocchi
Bruschettona con pomodorini ciliegino, carciofini, olive di Gaeta e basilico - 68
Toasted semola bread with cherry tomatoes, artichokes, Gaeta olives and basil
Battuto di fassone piemontese con condimenti, salsa gribiche e sali aromatici - 88
Piedmont "Fassone" beef tartare with condiments, gribiche sauce and aromatic salts
Carpaccio di manzo con rucola, chiodini, crema di porcini e tartufo, aceto balsamico e Parmigiano Reggiano - 85
Beef carpaccio with rocket, pioppini mushrooms, cream of porcini mushrooms, cream of porcini, black truffle, aged balsamic vinegar and shaved Parmigiano Reggiano cheese
Caprese di Mozzarella di bufala aversana con pomodori heirloom, balsamico e basilico - 85
Caprese of buffalo mozzarella cheese with heirloom tomatoes, balsamic glaze and basil
Polpo arrostito con erbe aromatiche, spuma di patata affumicata e polvere di peperone - 82
Char grilled octopus with aromatic herbs, smoked potato mousse and capsicum soil
Tartare di tonno con agretto di fragole, capperi, basilico e salicornia - 85
Tuna tartare with chilled strawberry gazpacho, capers, basil and salicornia
Frittura di pescato con gamberetti, calamari spillo, moleche, lattarini e zucchine - 105
Assorted fried fish, calamari, prawns, soft shell crab and zucchini
Vitello tonnato - 92
Thin slices of roasted veal with tuna, capers and anchovies mayonnaise, crispy celery and saffron chips
Soup
Zuppa di peace - 78
Seafood soup with Mediterranean fish fillet, squid, baby octopus, prawns, mussels and clams (allow us 15 minutes)
Ribollita classica di verdure, cavolo verza, legumi freschi e bietole con crosta di pane rustico - 46
Classic vegetable soup with seasonal vegetables, legumes, pesto and rustic bread
Salads
Insalata tiepida di astice - 150
Warm salad of Canadian lobster, date tomatoes, saffron potatoes, celery, red onion, basil and lemon dressing
Mare - 98
Seafood salad of prawns, squid, cuttlefish, octopus, mussels with celery, carrots, pickles, parsley and lemon dressing
Spinaci, salsa tzatziki, mela verde, caprino, noci tostate, pinoli e semi di zucca - 80
Baby spinach, green apple, goat cheese, toasted walnuts, pine nuts and pumpkin seeds in tzatziki sauce
Insalata di rucola, pomodorini, funghi chiodini e scaglie di Grana Padano - 57
Rocket leaves with cherry tomatoes, chiodini mushrooms and shaved Grana Padano cheese
Insalata di pomodori con e balsamico, cipolla rossa e basilico - 55
Heirloom tomatoes with balsamic dressing, red onions and fresh basil
(P)Contains pork (V) Vegetarian (A) Contains alcohol (N )Contains nuts (D) Contains dairyAll above prices are inclusive of 10% government fees and service charge Home > Restaurant Menu > Restaurant - Starters
Wheat and Rice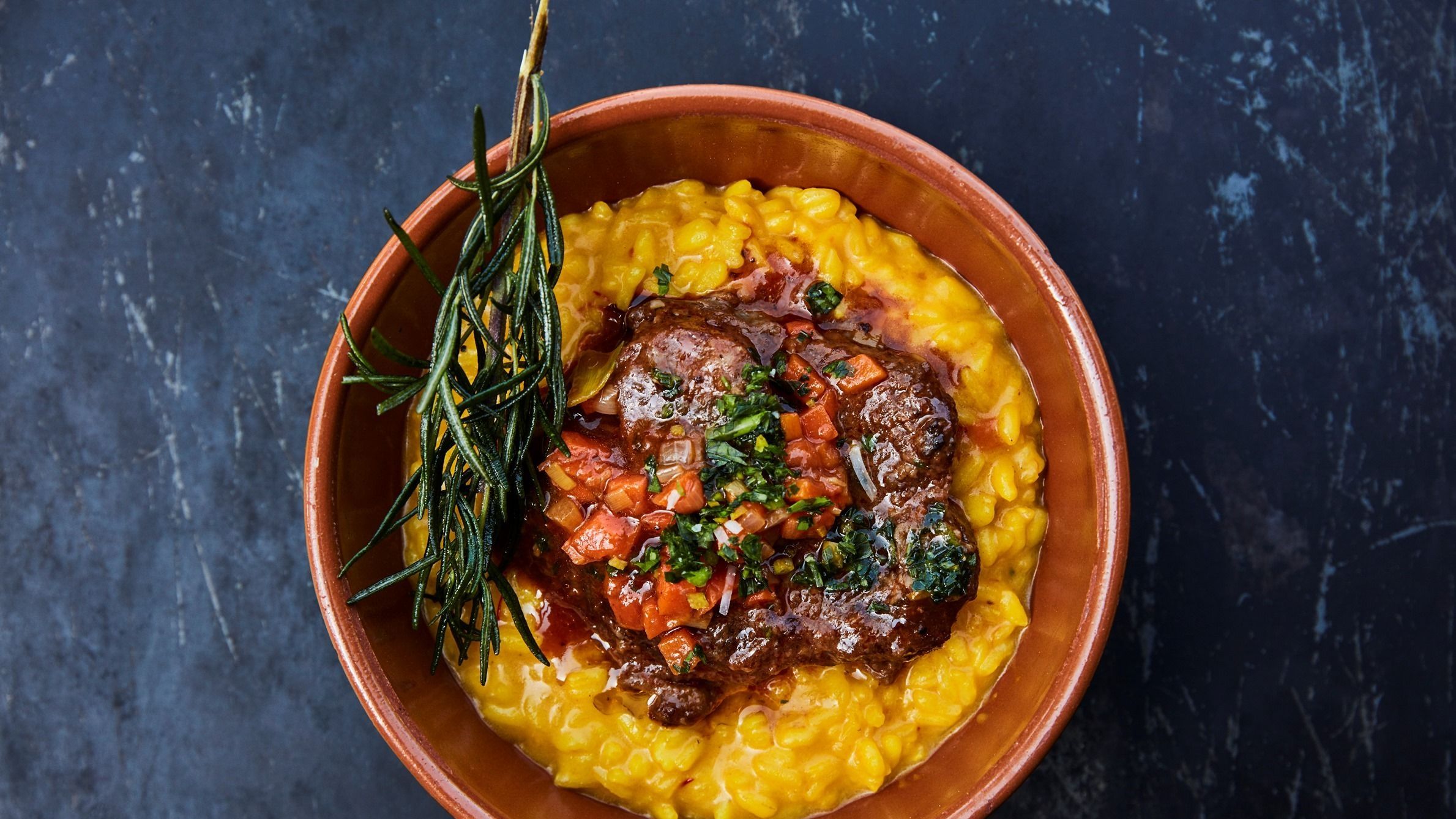 Our Risotti
Risotto con funghi misti mantecato con burro al tartufo - 87
Carnaroli risotto with porcini, chanterelles, king oyster mushrooms and parsley creamed with truffle's butter
Risotto allo zafferano mantecato con burro acido e servito con ossobuco - 110
Saffron risotto made with veal and baby chicken clear broth, creamed with Parmigiano Reggiano cheese and ossobuco
Risotto alla pescatora - 105
Seafood risotto simmered with tomatoes, prawns, calamari, baby octopus, mussels and parsley
Le Paste
Our homemade fresh pasta and some production from renowned Italian Artisans
Paccheri al sugo di pesce spada, melanzane viola, pomodorini e origano - 98
Paccheri with swordfish, fried violet eggplant, cherry tomatoes and oregano
Gnocchi alla romana di semolina con stufato di agnello, Pecorino e limone - 82
Baked roman style semolina gnocchi with slow cooked lamb ragout, Pecorino cheese and candied lemon
Conchiglioni con ragù bianco di molluschi ostriche, bottarga e prezzemolo - 112
Shell shaped pasta with clams, mussels, scallops and oysters, sautéed with Pinot Grigio wine, garlic, parsley and grated bottarga
Linguine all'astice, cognac, prezzemolo e pomodorini datterini - 148
Linguine with fresh lobster, cognac, dates tomatoes and parsley
Tagliolini allo Scoglio - 112
Homemade tagliolini pasta with calamari, prawns, Cuttlefish, mussels, clams and parsley
Tortelli di ricotta e spinaci con burro alla, ragu' di funghi e tartuhi e tartufo nero - 99
Homemade ricotta and spinach ravioli with sage butter, wild mushrooms and truffle
Malloreddus con ragout di maiale, vino rosso e Pecorino Fiore Sardo - 76
Sardinian shell shaped pasta with pork sausage ragout and Pecorino Fiore Sardo
Cannelloni ripieni con brasato d'anatra, scarola e taleggio - 96
Bared cannelloni pasta filled with braised duck, vegetables, endives, topped with taleggio cheese sauce
Spaghetti alla chitarra piccanti con pomodoro, basilico e mozzarella di bufala - 77
Homemade wholemeal spaghetti with basil, chili, cherry tomatoes and buffalo mozzarella cheese
Raviolini al plin ripieni con arrosto di vitello, Parmigiano Reggiano, burro e salvia su fondo di pollo - 98
Hand made ravioli "del Plin" filled with roast veal and Parmigiano Reggiano cheese, tossed with butter, sage and chicken jus reduction
Fettuccine all'uovo con salsiccia mantovana, funghi porcini, parmigiano e tartufo nero - 86
Homemade fettuccine with pork sausage, porcini mushrooms, black truffle and Parmigiano Reggiano cheese
(P)Contains pork (V) Vegetarian (A) Contains alcohol (N )Contains nuts (D) Contains dairyAll above prices are inclusive of 10% government fees and service charge Home > Restaurant Menu > Restaurant - Wheat and Rice
Land & Sea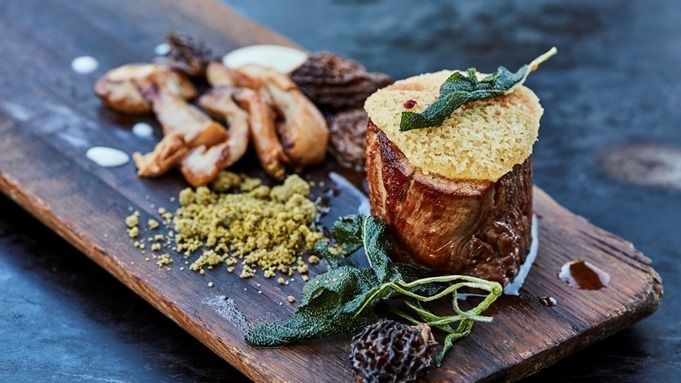 Le Carni From The Land
Filetto di manzo con crema di patata monalisa, ortaggi glassati e riduzione di vitello - 201
Beef fillet with monalisa potato cream, glazed garden vegetables and veal jus reduction
Carre' d'agnello alla brace con peperoni e patate novelle arrosto - 175
Grilled lamb racks with roasted capsicums and baby potatoes
Pancia di maiale fondente con caramello di topinambur e rapette glassate al miele d'acacia - 155
Slow cooked pork belly with liquid sunchokes and honey glazed rainbow roots
Tagliata di rib eye con rughetta, Parmigiano Reggiano, cardoncelli e glassa al balsamico - 210
Rib-eye Tagliata with rocket leaves, Parmigiano Reggiano cheese, king oyster mushrooms and balsamic
Medaglione di vitello in crosta di mostarda, misto di funghi, crumble alle erbe, riduzione di vino rosso e patata fondente - 215
Veal medallion with mustard crust, forest mushrooms, herb crumble, red wine jus and smoked potato mousse
Pesci From The Sea
Branzino su piastra di sale, crema di cannellini, spinaci ripassati e zucchine alla scapece - 185
Seabass fillet cooked on aromatic salt with cannellini beans cream, garlic spinach with zucchini's escabeche
Salmone norvegese con crema di piselli, menta e quenelles di patata agli agrumi - 140
Pan seared Norwegian salmon with spring peas and mint cream and citrus potato quenelles
Grigliata mista di pesce con astice, gamberi blu, carabineros, orata, calamari e polpo - 210
Char grilled Mediterranean seafood with lobster, obsiblue and carabineros prawns, fresh squids, sea bream and octopus served with chimichurri sauce and one side dish of your choice
Merluzzo nero con pomodoro disidratato, peperonata, crema di olive e gelatina di cappero - 215
Black cod fillet with sun dehydrated tomatoes, olive cream, caper jelly and basil
Filetto di tonno scottato con caponata di vegetali e crema di cipolla rossa - 165
Seared tuna loin with vegetables caponata and red onion cream
(P)Contains pork (V) Vegetarian (A) Contains alcohol (N )Contains nuts (D) Contains dairyAll above prices are inclusive of 10% government fees and service charge Home > Restaurant Menu > Restaurant - Land & Sea
Desserts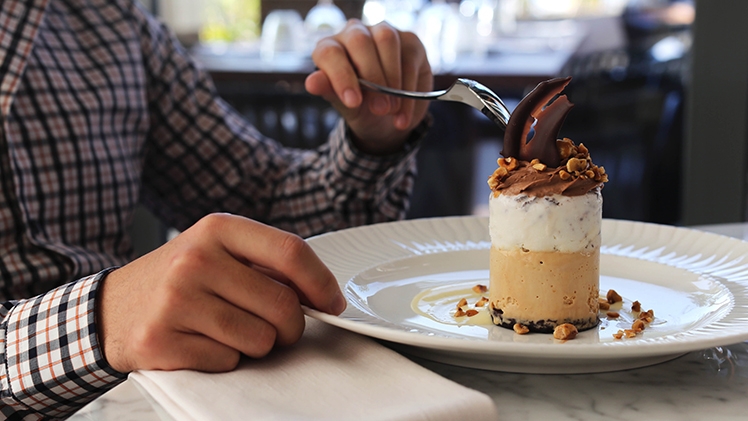 Restaurant - Desserts
Tiramisu - 50
Traditional layered mousse of mascarpone and zabaione with savoiardi biscuits dipped in espresso and black rum
La Mafalda - - Semifreddo nocciola e stracciatella con pralinatura di cioccolato al caffé e nocciole e salsa toffee - 45
Hazelnut and stracciatella parfait, chocolate, coffee, hazelnut praline with toffee sauce
Fondente al cioccolato con cuore morbido, crema al latte, crumble al cacao, confettura di amarene, gelatine all'amaretto frutti di bosco e sorbetto alle pere (15 min di preparazione) - 58
Molten dark chocolate cake, cream, cocoa crumble, morello jam, amaretto jelly, berries and pear sorbet
Affogato al caffe - 45
Hazelnut gelato, whipped cream, chocolate chips with hot espresso
Tagliata di frutta - 55
Seasonal fruit selection
Selezione di formaggi assortiti e mostarde di frutta - 72
Assorted cheese selection, figs, berries and Italian fruit chutneys
Gran tagliere di frutta e sorbetti - 100
Grand seasonal fruits platter with selection of sorbets on ice
Pensieri di agrumi e mandorle - 55
Ricotta cheese, marzipan and candied citrus mini cakes, pistachio gelato and lemon cremoso
Sbrisolona, Sbrisolona, bavarese con uvetta, passito, biscotto al pistacchio e pesche affogate al moscato - 55
Almond crumble, passito wine, raisin and apricot bavarois, pistachio sponge and Moscato caramelised peach
Lo Strudel della Bussola - 50
Made to order apple strudel "Bussola style" with cinnamon sauce, vanilla gelato and almond crumble
Gelati (per scoop) - 15
Vanilla, Chocolate, Stracciatella, Praline, Pistachio, Coffee, Milk
Sorbets (per scoop) - 15
Lemon, Strawberry, Raspberry, Mango, Pear, Cocoa, Passion and Rosemary
(P)Contains pork (V) Vegetarian (A) Contains alcohol (N )Contains nuts (D) Contains dairyAll above prices are inclusive of 10% government fees and service charge Home > Restaurant Menu > Restaurant - Desserts
Business Lunch
AED 130 per person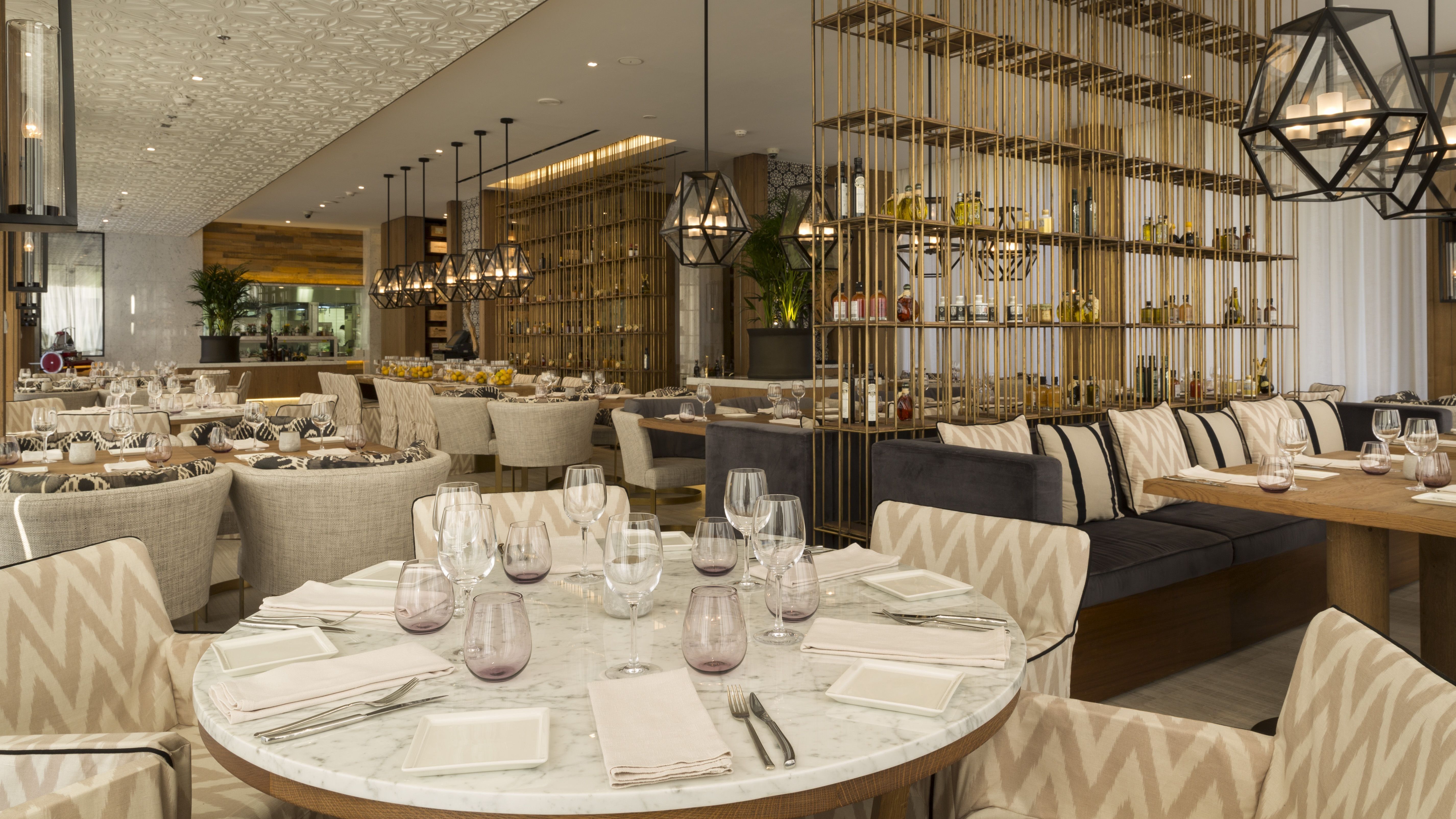 Sunday
Simply choose your two course dishes from the options below
Crostone ai cereali con stracciatella, carciofi e salmone affumicato
Toasted multi cereal brown bread topped with stracciatella cheese, artichokes, green tomato and smoked salmon
Insalata di patate, pancetta, fagiolini, soncino e uovo barzotto con olio alla mostarda
Potato, pancetta, string beans and baby lettuce salad with organic egg and mustard dressing
Panzanella di pomodori e cetrioli all'agro con mozzarella di bufala e basilico
Panzanella salad with tomatoes and cucumbers with buffalo mozzarella and basil
Tagliolini con asparagi e gamberi
Tagliolini pasta with green asparagus and prawns
Orata al forno con patate
Baked whole seabream boneless, potatoes, olives, tomato and herbs
Filetto mignon, fegato grasso, brioche dorata e salsa di vino rosso
Beef fillet mignon (140gr), seared foie grais, toasted brioche and red wine reduction
Monday
Simply choose your two course dishes from the options below
Insalata golosa
Crab salad with cubed potatoes, long beans, zucchini, parsley, lemon and capers mayonnaise
Vitello tonnato
Thin slices of roasted veal, tuna, celery, capers, anchovies and parsley cream with eggs chips
Parmigiana di melanzane
Eggplant parmigiana with mozzarella, tomato, Parmigiano Reggiano cheese and basil
Risotto al pomodoro, rosmarino e formaggio di capra
Carnaroli rice with tomatoes, rosemary and goat cheese
Raviolini di manzo, burro salvia e riduzione di vitello
Raviolini filled with veal roast, butter, sage, Parmigiano Reggiano cheese and veal jus
Fettuccina con orata, finferli e pomodorini
Fettuccine with sea bream ragout, chanterelles and date tomatoes
Costolette d'agnello al vino bianco, olive pugliesi, rosmarino e carciofi brasati
Lamb cutlets with white wine, apulia olives, rosemary and broiled artichokes
Tuesday
Simply choose your two course dishes from the options below
Insalata rustica di fagioli, tonno sako e cipolla rossa
Roman style mixed bean salad with seared tuna, anchovy paste, tropea red onion and soft boiled organic egg
Bresaola , rucola , grana padano e balsamico
Thin slices of bresaola, fresh arugula salad, grana Padano cheese and balsamic glaze
Zuppa di cozze e pane tostato
Live mussels soup with tomatoes, parsley and garlic bread
Pollo alla valdostana con prosciutto, fontina e coulis di peperoni
Chicken roulade with fontina cheese, cooked ham and capsicum coulis
Creste di pasta fresca con burrata, alici e salsa di pomodorino al forno
Handmade creste pasta filled with burrata and anchovies with roast cherry tomato sauce
Tonno in crosta di pistacchio, con salsa all'arancia, finocchio e misticanza
Tuna loin with pistachio crust, orange coulis, fennel and baby leaves
Wednesday
Simply choose your two course dishes from the options below
Cappuccino di burrata con piselli, porri e tartare di salmmone
Warm burrata cream with green peas, rosted leeks and salmon tartare
Baguette con salmone affumicato, avocado, ravanelli, mandorle e olio al limone
Rye bread with smoked salmon, avocado, red radish, toasted almonds and lemon oil
Insalata tiepida di asparagi, nido croccante di filo, uovo in camicia, parmigiano e tartufo
Warm aspagarus salad, cruncy filo nest, poached egg, Parmigiano Reggiano cheese and truffle
Pacchero spada e melanzane
Pacchero pasta tossed with seared swordfish, eggplant, tomatoes and fresh oregano
Stinco di agnello brasato con mousse di patata monalisa e gremolata
Braised lamb shank with mash potato and gremolata
Calamari ripieni di patate e provola con purea di cannellini
Calamari stuffed with smoked Provola and potato with dried broadbeans puree
Thursday
Simply choose your two course dishes from the options below
Bruschettona pomodoro e basilico
Toasted homemade country bread, brushed with garlic and topped with cherry tomatoes, oregano artichokes, black olives
Tartare di tonno con olive, capperi , basilico all'agretto di fragole
Classic tuna tartare with olives,caper berries, basil and strawberry vinegar
Crêpes salata, farcita con ricotta e spinaci, tuorlo d'uovo barzotto, passata di pomodoro, grana e basilico
Savory crêpes stuffed with ricotta cheese and spinach, soft egg yolk , topped with tomato sauce , parmesan and basil
Gnocchi di patate, sugo di agnello, menta e limone candito
Hand made potato gnocchi, roast lamb sauce, mint and candied lemon
Gnocchi di semolino gratinati con sugo di agnello e limone candito
Hand made gratinated semolino gnocchi with lamb ragout and lemon
Frittura di paranza
Deep fried fish fillet, prawns, calamari and baby octopus
Gamberoni spadellati, tomato coulis e pane al basilico
Pan seared tiger prawns with tomato coulis and basil bread crumbs
Should you have any specific dietary requirements, including any allergies that you would like to make us aware of, please inform our staff. For more information, please ask to speak with our Restaurant Manager.
Restaurant

Daily: 12PM - 3PM l 7PM - 11PM

Pizzeria | Sun - Thu

6PM - 11PM

Pizzeria | Fri - Sat

12PM - 11:45PM